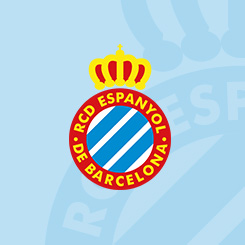 RCD Espanyol de Barcelona
RCD Espanyol de Barcelona, located in Barcelona, Spain, was founded on October 28, 1900 as one of the founding clubs of La Liga, Spain's first division football league. Espanyol have won the Copa del Rey four times and reached the UEFA Cup finals in both 1988 and 2007.According to La Liga's official website, Espanyol rank seventh in the all-time league table. One of the most traditional clubs in Spain, Espanyol is well known in the world for its excellent youth training system and constant La Liga status.Currently, Rastar Group hold 99.25 per cent of shares of RCD Espanyol de Barcelona, making it the first Chinese A-share company to take over a club of Europe's top five leagues.
Rastar Center, No. 122. Western Huangpu Avenue, Tianhe District, Guangzhou, China
Enter the official website
Hot Newst More info》
RCD Espanyol de Barcelona now has an official app

02-26

The new official club app is available for download on Google Play and on the AppleStore.

Wu Lei wins the Chinese Golden Ball

01-17

Wu Lei has been awarded the Chinese Golden Ball as the Asian country's best player in 2019, at an awards ceremony organized by Titan Media Group in Peking.

Welcome Abelardo - New RCD Espanyol Coach

12-27

The club opt for the Asturian to coach the side until the end of the season.
Club Members
José M. Durán

CEO & General manager
Commemorative Gift More periphery》
RCDE Home Kit

2019-20 Season

RCDE Commemorative Scarf

Commemorative Scarf

RCDE Limited T-shirt

Limited T-shirt

Peripheral Products

RCDE Peripheral Products
Home experience